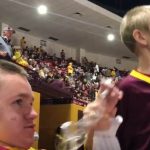 Last year's Family Fun at the Phoenix Zoo event offered several Los Niños Home Medical Services' clients and their families, the chance to experience some stress-free fun—all thanks to the generosity of our community partners.
One lucky young man had an especially good time at the event when he won the door-prize raffle for a set of ADA-Compliant tickets to the ASU vs. UCLA basketball game on February 10, 2018. Though this Minnesotan family had never visited the Arizona State University campus in Tempe, Sun Devil Pride was now in their future.
On game day, Drew—accompanied by his brother, cousin, and grandmother—donned maroon and gold, and cheered along with the crowd. Beaming with excitement, Drew's grandmother shared that her grandson had the time of his life, and that he joined the rest of the attendees (with the help of Drew's brother and cousin) in doing the wave! Arizona State defeated UCLA 88-79. To see Drew in action, follow this link: http://bit.ly/2FwLKZS.
"I think we at Los Niños Home Medical Services convinced an entire family to become Sun Devil fans for life. The boys sure looked good in their maroon and gold. Oh, and yes the Sun Devils did beat UCLA on that afternoon, so what a great day for everyone!" ~ John Widder, Director of Los Niños Home Medical Services
Special thanks to Matt Salmon and Arizona State University's Office of Government & Community Engagement for sponsoring the tickets.
All her life, Natalie wanted to be a mom. In the spring of 1994, her desire became a reality when she gave birth to a healthy baby boy named Jonathon.
Joy filled the home after his birth, but at 18 months joy gave way to concern when Jonathon suddenly stopped meeting his growth and developmental milestones. He wasn't rolling over, he didn't crawl until he was two, his language/speech did not develop, and he didn't start walking until first grade.
Shortly before Jonathon's fifth birthday, the family was referred to a Tucson Neurologist where he received his first official diagnosis; autism, mental retardation & cerebral palsy. However, a year later Jonathon developed seizures, putting his long-term health at risk. Not knowing when he'd seize again, his family journeyed to Tucson to have him reexamined. Jonathon's neurologist revised the initial diagnosis and replaced mental retardation with epilepsy.
Chronic respiratory infections and frequent trips to the ICU plagued Jonathon's early years. By the time he was in first grade, his seizures worsened. The compounded result of his condition required Jonathon to take multiple anti-seizure medications, use a ventilator to assist with his breathing and obtain his nutrition through a feeding tube.
For 18 years, Natalie provided all of Jonathon's 24/7 care, but the stress of caring for her now adult son became overwhelmingly demanding on her physically, mentally, spiritually and emotionally. Realizing that she and her son were deteriorating, she reached out for help.
She worked with a state support coordinator who sent out 200 vendor calls and Hacienda was the only one to respond. Natalie initially met with Hacienda to inquire about placing Jonathon in a group home. Hacienda's staff listened carefully to Natalie and recommended she tour Hacienda's ICF-ID (Intermediate Care Facility for the Intellectually Disabled) as a better fit for Jonathon's needs. By the third meeting the family was informed the ICF-ID had room for Jonathon. To Natalie, this was the answer to their prayers. In September of 2015, Jonathon was welcomed to Hacienda—his new home.
Natalie expresses relief and gratitude knowing that her son is getting the compassionate care she was no longer able to provide at home. With much enthusiasm she shares that Jonathon can "get out and go to school" and that he's "working on graduating from high school."
"His caregiver takes him to the day room where he's able to play games, watch music videos and he's also taken on trips outside the facility. They take the patients out onto the patio and they play music for them where they're able to assist with gardening…They are treated with dignity like normal adults, not like people defined by their disability," says Natalie.
She goes on to say, "I know Jonathon is being well cared for and I am very grateful to have found Hacienda Healthcare ICF-ID for my son."
What do you do when your child lies in a vegetative state, with a tube down her throat hooked up to a machine that helps her breathe to stay alive?